Do you need to digitise your business processes?
Nowadays, more than 70% of SMBs lack digital tools even though most of their tasks can be automated. In order to adopt a good change management, companies must rethink their processes: optimization of exchanges, interactions between actors etc. Absys Cyborg supports you in your digitisation and business flow automation projects with solutions adapted to your needs.
What is the digitisation of business processes?
The digitisation of business processes consists of setting up processes to digitise an organisation's operations through technology. It allows companies to contribute to their digital transformation.
The use of new technologies helps companies to improve their performance in various sectors (sales, accounting, etc.). Digitisation thus helps to accelerate the growth of a company thanks to dedicated tools such as ERP, CRM etc. 
By digitising business processes, companies have to face an internal reorganisation and optimisation of their daily tasks. This is why automation and predefined workflows are essential for the smooth running of this new organisation.
Which business lines are concerned by digitisation?
Digitisation concerns the following business processes:
The accounting department
EDM (Electronic Document Management) solutions allow the accounting department to deal with the treatment of a document. You can thus benefit from optimised management of incoming flows, such as outgoing flows (customer invoices, etc.). Digitisation of accounting processes also offers better monitoring of payments, reminders, and better management of suppliers and customers etc. It also reduces the risk of data entry and it helps you saving time and money.
Tax processes
Nowadays, more and more companies usually fill their tax returns online. This can lead to a change management by digitising their tax processes such as:
VAT digitalisation management
Tax returns
Digital tax audits
Accounting processes can be managed by ERP systems such as Microsoft Dynamics 365 which offers several adaptive features.
The advantages of digitising business processes
Digitization is a global issue of competitiveness and modernisation of an organisation. Discover the main advantages that it can offer to your company:
Saving time and productivity
Better internal organisation
Continuous improvement of processes
Increased transparency and agility in the management of the company's information flows
Meet the strategic objectives of the organisation
Increased productivity of the company
The reduction of archiving costs
A better access to the follow-up of document digitisation
Why should you trust Absys Cyborg for the digitisation of your business processes?
As a key player in the digital transformation of companies, Absys Cyborg keeps advising and supporting companies in all sectors in the choice of their management solutions for over 30 years.
Our experts will guide you towards the implementation of Sage, Microsoft and Kyriba solutions corresponding to your business challenges.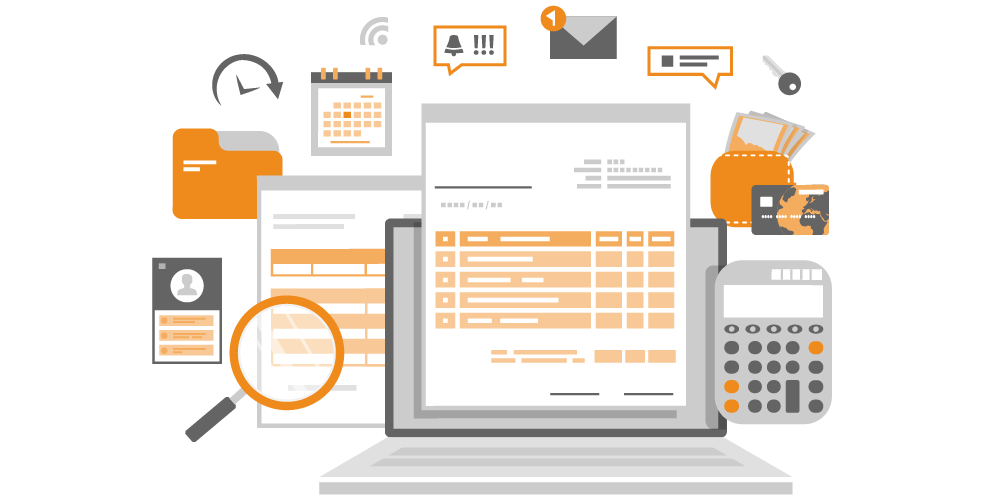 Any question about The digitisation of business processes?
Feel free to get in touch with us!