Praxedo
The Praxedo solution allows you to enrich your information system by extending it to your on-field technician activities, to facilitate their daily work, all while improving productivity. Discover the Praxedo solution, leader on the market of field service management softwares.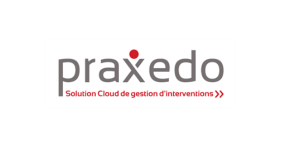 What is Praxedo ?
Since its creation 16 years ago, Praxedo always focused on bettering its field service management solution in SaaS mode, to make it even more efficient, versatile, and functional. It counts now more than 1 000 clients from all sectors, and 40 000 daily users around the world, making around 100 000 interventions every day. And Praxedo do not intend to stop there: facing an important growth for 5 years, the company is more and more focusing on two points: the R&D, to offer a tool and a solution that remains relevant and practical, and the hiring process, in France and all over the globe. Praxedo represents more than 120 co-workers around the world.
Why choosing the Praxedo solution ?
The Praxedo solution helps you to optimize your team's on-field interventions, thanks to a transversal tool which is used by the managers and technicians at the same time. It allows you to organize your team's interventions schedules on the web platform and to track their activity in real time, by being connected to the mobile application used by your teams while on the field. Easy to use and entirely customizable, the Praxedo solution can be connected to Sage 100, Sage X3 or Microsoft Dynamics 365 Business Central. With this solution you can not only save time, increase your performance, and improve customer loyalty, but also enrich your information system, by extending it to your on-field technician activities, no matter the industry.


Praxedo to organize your team's interventions
By using the web application, you can organize your team's schedules, by having a global vision of all their constraints. Follow their activities in real time, track and analyze their performance to optimize it.


Praxedo on the field
Every technician equipped with the Praxedo application on its mobile phone can have access to its schedule and all the details concerning his interventions. By enriching its application with the information collected on the field, he has a role to play in the optimization of the future interventions, and in the improvement of the global client relation. He can perform no matter where he is because the application works off-line too.
The functionalities of the Praxedo solution
Praxedo, leading solution on its market, is a field service management software, where you can find the following functionalities : 
Planification
Tracking in real-time
Geo-tracking
Client-relation
Specific configuration
SI integration
Multi-OS, multi-devices
Stock level visualization of detached pieces
Remotely collaboration, chat, document sharing
Discover the rich functionalities of the Praxedo solution to improve the performance of your on-field technicians. It is suitable for all SME's having on-field technicians, piloted by an activity conduct.
Say goodbye to the paper forms and the informatic retyping. You will rapidly improve efficiency and reactivity with a Saas and cloud platform, dedicated a 100% to intervention management.
Any question about Praxedo?
Feel free to get in touch with us!